Candace's Big Day

Phineas and Ferb episode
Season
2
Production code
224b
Broadcast number
Unknown
Original Air date
6 February 2010

Candace's Big Day is an Phineas and Ferb episode. It has already aired on Disney XD, and is coming to Disney Channel February 12, 2010.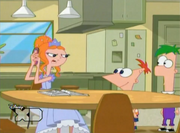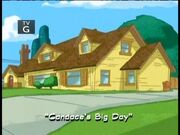 Candace is elated at the prospect of being the maid of honor at Aunt Tiana and Uncle Bob's wedding. Phineas and Ferb's creative touches include a massive ice sculpture. Agent P must stop Dr. Doofenshmirtz from spraying a partially hydrogenated coconut oil and corn syrup concoction over the entire Tri-state area to turn lean meats, whole grains, fruits and vegetables into junk food.
Ad blocker interference detected!
Wikia is a free-to-use site that makes money from advertising. We have a modified experience for viewers using ad blockers

Wikia is not accessible if you've made further modifications. Remove the custom ad blocker rule(s) and the page will load as expected.